A trip was made to Blue Lake, a local favorite, last week. Not because of the great potential the flooded reservoir offers but it was an opportunity to visit with longtime fishing buddy Luke Adam. Luke, an avid angler and teacher at Nashwauk-Keewatin high school, for the past 17 years, was fishing during mid-week. Hey! What's going on here? Wasn't he supposed to be "working?" Well, fact-of-the-matter is, he was, as it was the inaugural outing of the Spartan Angling Class.
Adam has been teaching this class, every day, since January 17, and this was their first opportunity to get out doors and do it "for real". He applied for and succeeded in obtaining a grant from the Minnesota DNR, an effort to bolster angler recruitment and retention. The course will run through the end of the school year and pick up again in September.
This year, there are only 13 students involved with the program, but Adam expects it to be a full class next fall. Most students, two of which are girls, are in 9th and 10th grade, with a lone senior. Their ice fishing experience ranges from seasoned anglers to "never have done it before" but all have a ton of enthusiasm.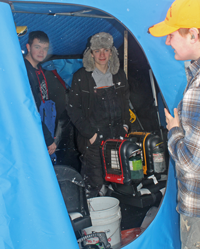 So far, there are a couple other possible fishing trips on the schedule. Luke mentioned the famed spring sturgeon bite on the Rainy River (all the kids want to try this one), along with Upper Red Lake walleyes, once the season gets going. Mille Lacs Lake has crossed his mind, as well. They'll also be making a spring visit to the Cut Foot Sioux walleye egg stripping operation.
The class has adopted a local brook trout stream, Pickerel Creek, near Pengilly. Working with the DNR, they'll be cleaning and maintaining the fragile stream that runs into Swan Lake.
It takes more than a grant to make a program like this successful and Adam has a lot of additional support. He already has a lot of donated fishing equipment fishing equipment for both summer and winter.
I asked, "where do you keep all of that stuff?" "In my room" Luke replied and laughed saying "it looks like a fishing emporium."
Out on the lake, the students had beat me to it, and were all set up. Shelters were scattered across the first main bay, always a good spot to fish. Blue Lake was perfect for this outing, as it's a local favorite fishery and almost always has a plowed road. This made it easy for the group to drive out. The rest was not so easy.
Mother Nature was quite rude on this inaugural day, offering deep snow, slush, gusting winds and snow, but the kids loved it.
Nathan Bird had room in his Eskimo hub fish house and offered me shelter from the storm. I had a good chance to visit with him and catch a few fish of my own, about two dozen of them.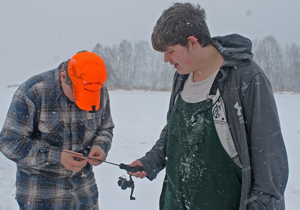 Luke was busy showing the students how to go about setting up a dark house for spearing northern pike. Wading through deep and slushy snow, they found a suitable spot close to shore. This is a lot of fun. It's the hole cutting that can wear a person out.
Halfway through the outing, principal Ranae Seykora rolled up to check things out. There was a good deal of activity taking place and I could tell from the smile on her face that she greatly approved. And if I'm not mistaken, I think "somebody" got stuck out there? Hmm. Can't really remember.
Everyone was catching fish, as there are a lot of them out there. The big challenge is to find a few of the bigger ones. Fish kept were going back to the school, where Luke would put on a fish-cleaning clinic. These kids are going to learn each-and-every aspect of the sport of fishing.
The Spartan Angling Class, like any other high school class, is a place for students to learn. On this day, they learned how to set up for spearing, how to "go small" for catching panfish, how to set up a shelter properly and stay comfortable.
Some of the students even learned the importance of anchoring down a hub shelter when it's windy out. I realized this, when I saw one go floating past me, tumbling and lifting in the air, all the way to the other shore. Hey, it's all fun and I hope they learned a lesson here.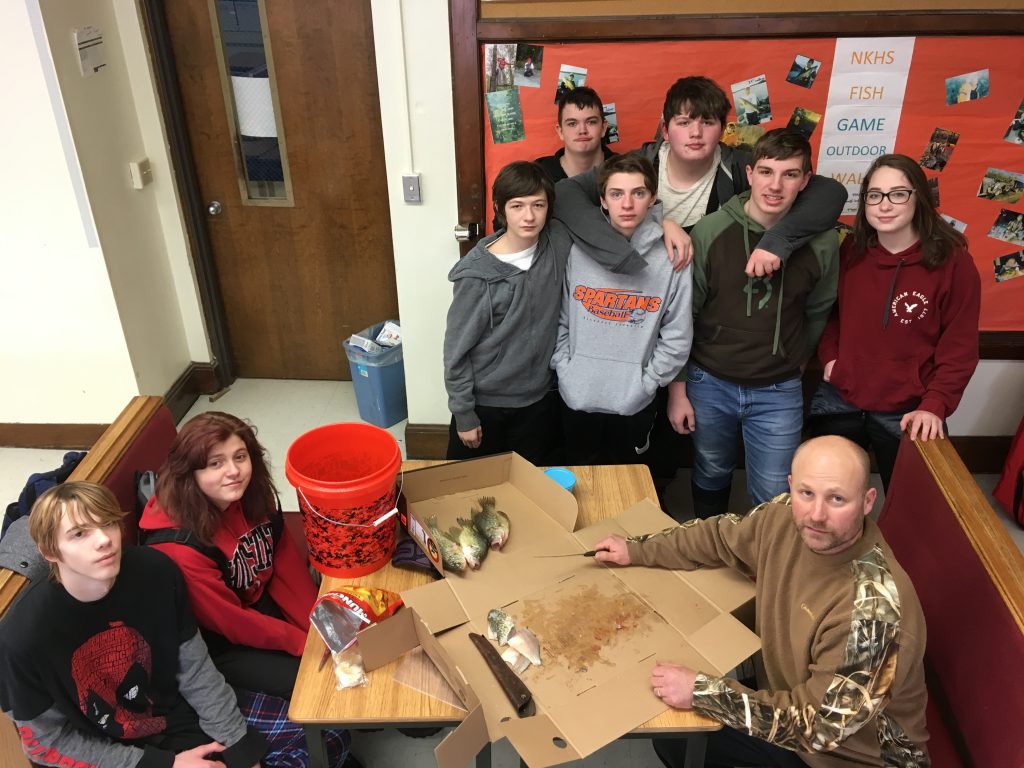 Special thanks to The Great Outdoors in Pengilly for the bait, the Minnesota Darkhouse and Angling Association, Minnesota DNR, Bio Bait, Northland Tackle, Grand Rapids L&M, and NK-G Transportation.
*Note – anyone wishing to donate to the Spartan Angling Class, please contact Luke Adam at Nashwauk-Keewatin high school or principal Ranae Seykora.