Spartan Angling: Women of Skill

Coming from a family of one fisherman and three fisherwomen, I am the only male in my household. The other three enthusiastic anglers are my wife and children (5 & 13). My aunt also has a fishing addiction that will never be cured. Many of our family trips revolve around fishing, as it is the pastime we choose to raise our children experiencing. Covid has also encouraged fishing, as there is no better way to socially distance. My fondest memories with my wife have water and fishing as a baseline and included a marriage proposal on Rainy Lake. Angling teaches many life skills such as patience and perseverance, as well as the taste buds' rewards of fresh fillets hitting the oil. Male or female, makes no difference in these important human life lessons. My girls will grow up fishing and will be the "catch of a lifetime" for a partner someday.

In January of 2019, I applied for a DNR grant and started Spartan Angling. Spartan Angling is a class at Nashwauk High School that is open to grades 9-12 and teaches the art and skill of Minnesota angling. Anglers investigate a variety of topics from: fish identification, species angling methods and locations, lake biology, lake conservation, slot limits, invasive species, shoreline management, and, of course, go fishing! The class has been making slimy memories for kids for over two years, and we are still going strong!

The class often has many males and only a few female anglers. But this spring, one-third of the anglers are female and more are coming! News flash: Women can fish and love to learn the sport! Guys: You can take your girlfriend or wife on a date and go fishing! On our first outing of the spring semester, Spartan Angling went to Blue Lake in late February. We were targeting panfish and crappies and highs were forecasted in the 30's, making for a great experience for all. We were also outfitted with 25 rods and reels from Women Anglers of Minnesota last year!

After unloading fish houses and handing them over to the girls and boys in the class, I directed them to set them up. Without hesitation, the girls assembled the fish house and were ready for the next step. I handed them the auger and had them make their own hole. Squeals of excitement were erupting from the fish house, as for many of the females, this was their first experience augering through 28 inches of ice to the water. They also handily scooped out the ice holes and banked in the house for the day.

The next part was providing the anglers with Vexilars. Vexilar 101 was in session, but if anyone knows how to use a flasher, it is a fast learning curve. As the "green" bait met the "red" fish, the battles were on. They were catching fish! It was fun to see the excitement of learning this technology as the teacher. Girls and boys were hooked on angling! Several fish were caught that day by everyone, and everyone baited their own hooks, removed fish, and fished independently, after some brief instruction.

Having taken my own girls fishing, I have some experience on taking females out on the frozen water. It is imperative for everyone to make sure they leave the house with the proper clothing to have a great day. Dress for success! Bring a bucket with a toilet seat and provide privacy in a crowded area. Several companies make a toilet seat that just snaps on to a five gallon pail. Music was playing in the fish houses and don't forget the food, it's part of the experience! It is worth the extra effort to have females and males comfortable and help them enjoy the experience.

Spartan Angling iced about fifty fish that day, and then the next day, we cleaned the fish. I gave a few examples and turned it over to the kids. The kids filleted the fish and for many, it was their first time. Some hack jobs were made, but the kids learned. They learned by doing, not watching. I just walked around and coached
the kids, and kept flipping slimy slabs on their desks, where math homework was done the hour before. A large Tupperware container was plump full of thin fillets for tomorrow's fish fry.

The next day included directions on how to prepare and cook fish in our, unfortunately, retired home economics room. You just don't fry fish; it's more complicated than that. I showed the kids my staple fish batter….⅓ mixture of flour, Italian bread crumbs, and cornmeal. It gives a nice coating without the mess of a wet batter. I also explained the importance of oil temp…too cold your fish will be soggy and too hot and you will have fish chips. In my opinion, this is one of the hardest parts of the cooking process and it relies on sounds, smell, and experience. As the fish plunged the oil, the bubbles of gold started. Fried fish smell began to permeate the hallways of the school, then heads started to poke in, wondering if they could have a little taste. I talked to the students regarding the importance of sharing your catch with people, as the kids could have easily gobbled up all the fish. I gave the kids a three piece limit for their own bellies, and then the successful anglers showcased the mounds of golden panfish around the school feeding our beloved employees. I told them to find every adult in the building and give them fish. It's our way of giving back a little bit to a school who took a chance on the dream of a crazy math teacher who wanted to start a fishing class at the school!

Spartan angling is always in need of financial help to keep these experiences alive.  If you wish to donate or see more about our program, please see www.spartanangling.com for information about the program and how to donate.  Make fishing season 2021 a great one, and what female can you introduce to the sport?  Fishing is a life sport that can be enjoyed by all.  Providing a supportive educational opportunity is the key to success.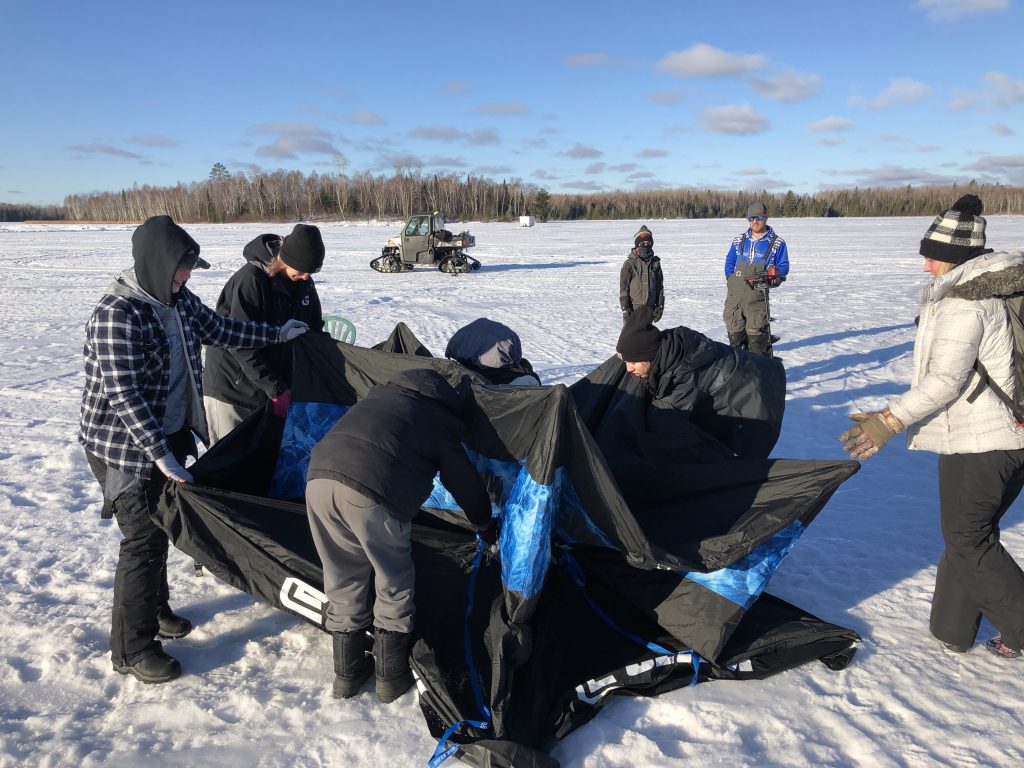 Setting up Houses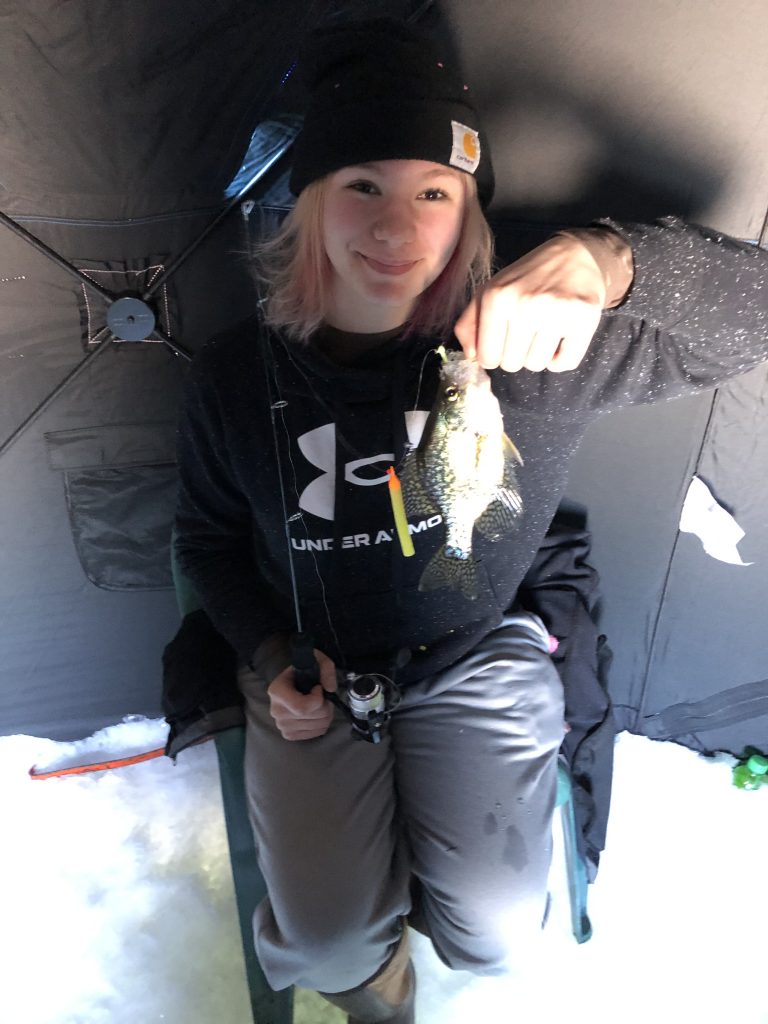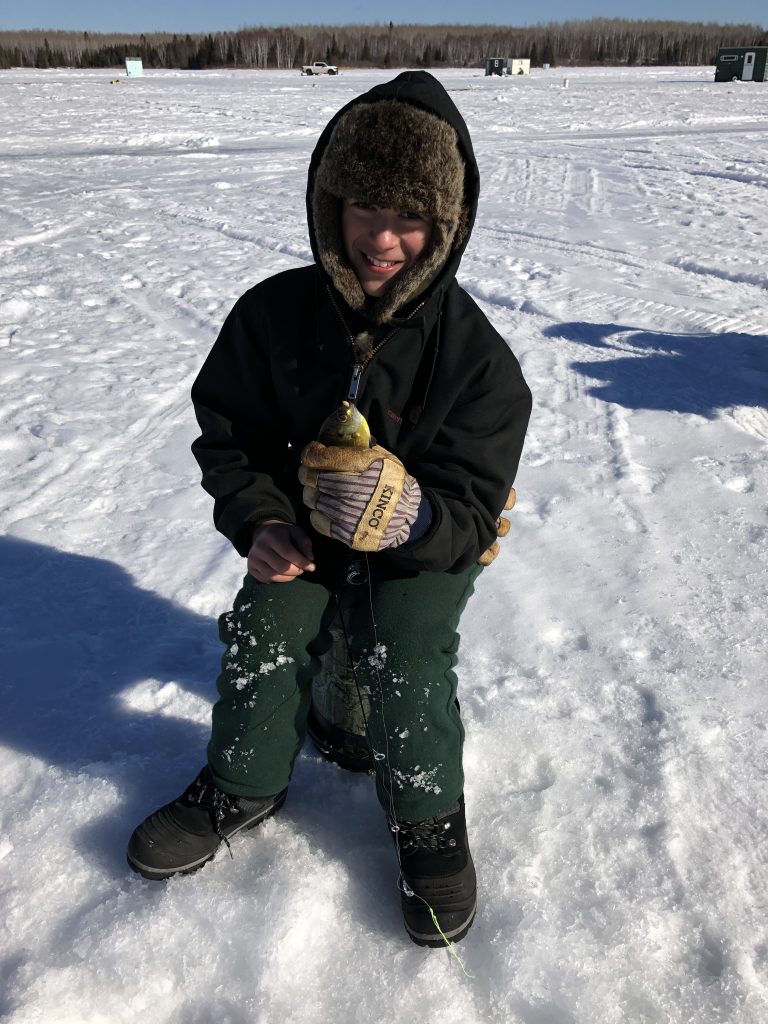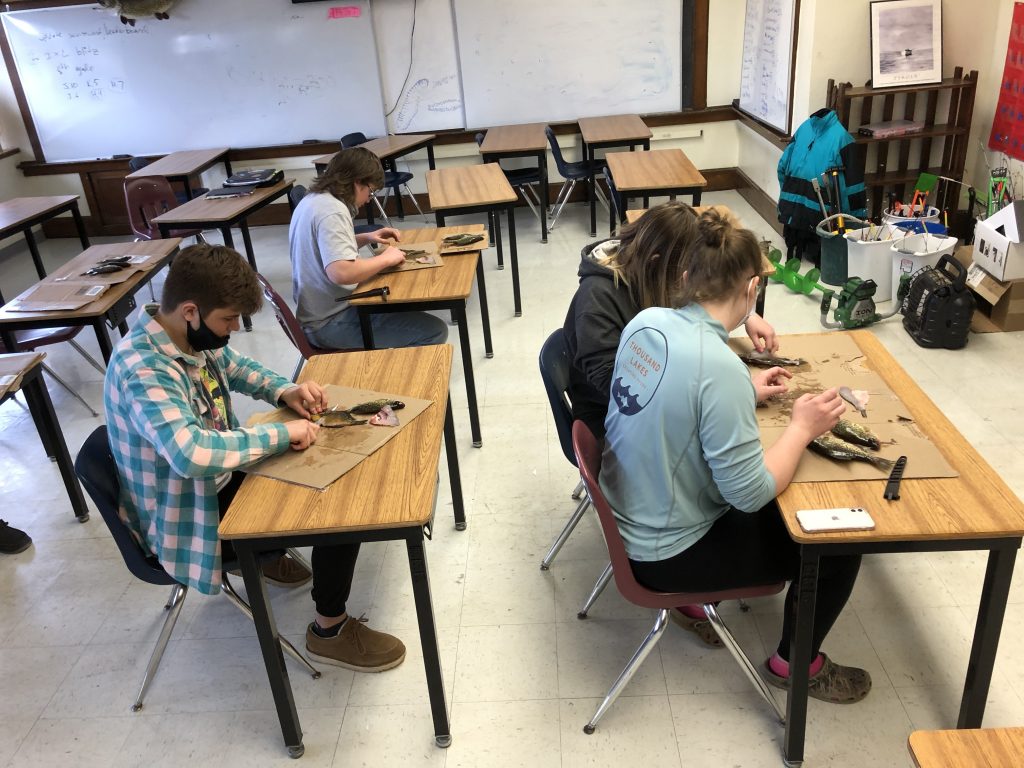 Learning to Fillet Fish!